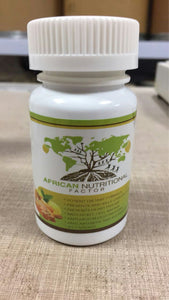 African Nutritional Factor, 60 Capsules, (2-Month Supply)
Regular price $36.00 Sale
Traditional African Dietary Supplement - "Wipes Out Chronic Diseases of Western Culture, And more!"
TWO MONTH SUPPLY PER BOTTLE!
An Incredibly Potent African Herbal Concoction of roots, seeds, grain, and plants, Made in the Way of West African Medicine Men, Handed Down for Generations. The Answer To Today's African Americans who suffer from Western Chronic Diseases! 
This is a miracle product if there ever was one - an African vitamin supplement which addresses many chronic diseases all at once. Most Dietary Supplements only specialize in 1 of  6 capabilities!  West African say that certain vitamin nutrients (B17) are so potent that it easily deals with common skin problems, high blood pressure, and arthritis but is especially powerful when it comes to cancers, sickle cell and heart disease.  Additionally, various African plants, seeds, and roots contained in this dietary supplement is believed by African doctors to boost the immune system, detoxifies the blood and body by inducing oxygen into the system and conquers all sorts of viral disorders and internal growth that African body types are susceptible to.
This is a dietary supplement which Millions of Africans need in order to live healthy.
Disclaimer: These statements have not been evaluated by the Food and Drug Administration. The content published by this website is intended for educational purposes only, it should not be construed as dispensing medical advice or making claims regarding the cure of diseases. You should always consult with a medical professional.