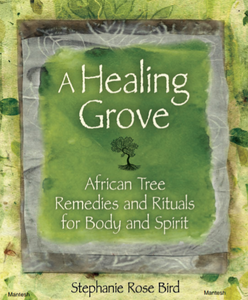 A  Healing Grove: African Tree Remedies and Rituals for the Body and Spirit (Ebook) 
A Healing Grove: African Tree Remedies and Rituals for the Body and Spirit is great work of African American traditional herbal medicine from inherited from their African ancestors. Stephanie Rose Bird—visual artist, educator, brilliant herbalist, evocative writer—has crafted a crucial and important book, sharing valuable, rare information that has never been more needed and relevant than it is today.  A Healing Grove is packed not only with information but also with functional, accessible recipes, remedies, and rituals to serve mind, body, soul, and spirit, derived from a variety of African and African American traditions. 

Reclaiming botanical and herbal information has never been more important than it is today. So much of our future depends on our ability to reclaim and use ancient Earth knowledge. Although many botanicals and herbals have been published, they tend to focus on Europe and the Americas. For many, the word rainforest is synonymous with the endangered Amazon Basin, as if that were Earth's only endangered patch of healing green. Africa, the Mother Continent and allegedly the birthplace of the entire human race, remains largely ignored. Yet African wild lands are as endangered as the Amazon. Equally endangered are the traditional indigenous cultures of Africa, caretakers of sophisticated botanical
medicinal systems whose roots stretch back to the proverbial dawn of time. A Healing Grove preserves this knowledge, presenting it as relevant and viable and demonstrating in intimate detail how vestiges of that knowledge took root in the Western Hemisphere, in African American culture, and in American culture, period. A Healing Grove celebrates the forest: its powers, spirits, magic, medicine, and mysteries.