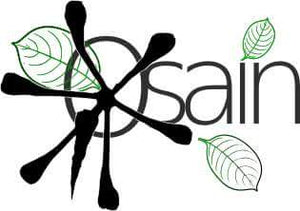 Mini-Course in Osain Yoruba Herbal Medicine - FREE Online
Regular price $0.00 $70.00 Sale
Free Online Mini-Course in Osain Yoruba Herbal Medicine. Only Pay Registration fee of $70.00
The Certified Mini-Course in Osain Yoruba Herbal Medicine is a series of twelve lessons offered by the African Traditional Herbal Research Clinic to give people the knowledge they need to learn how to take care of yourself and your family with herbs, and foods using Yoruba Healing Science. In this series of twelve lessons, you'll learn everything you need to know to take care of common ailments and chronic diseases at home.
Yoruba Traditional Plants and Healing
Here in a 12 lesson series, Dr. Sawandi explains stories, myths, science, and verses from the IFA Corpus that pertain to herbalism, Osain, the Yoruba and botanical names of the plants used in traditional healing, and the human spiritual connection to plants. He also addresses: how to understand and to pay homage by using specific plants to release asé (power); Yoruba beliefs about illness and dietary habits.
How to Treat and Heal Common Chronic Ailments
You'll learn the Yoruba Oloogun secrets of relieving pain, healing injuries with herbal first aid, rapidly overcoming acute ailments (colds, flu, fevers, sore throats, earaches, etc.) and even getting rid of many chronic health problems (cancer, sickle cell anemia, diabetes, arthritis, etc.).
The Course Comes With A Copy of 
African Medicine: A Complete Guide To Yoruba Healing Science and African Herbal Remedies by Dr. Tariq Sawandi, MH, PhD 
This course is built on a cohesive understanding of the Osain Tree of Health and Disease which teaches people to look at constitutional factors, root causes, biological terrain and body systems rather than specific diseases or disease symptoms.
Students learn the basic principles of Yoruba herbal medicine and how to Activate the body's healing Orisha energies, Build the body with good nutrition and Cleanse (or detoxify) the body to promote African Holistic health. They also learn how to select herbs, roots, foods, and Orisha sounds to balance the bio-chemistry and support weakened body systems.  This is known as the Tree of Osain to Natural Healing. Students learn Orisha diagnosis, herbal formulas, recipes, and treatment, human anatomy in relation to the Orishas, Healing Foods for the Orishas, and Orisha Activation through Power Chants.
Those students who complete the course will receive a certificate of completion from Dr. Tariq Sawandi in Introduction to Yoruba Healing Science.